How to customize the ribbon in WPS Presentation
Uploaded time: March 16, 2022 Difficulty Beginner
A free Office suite fully compatible with Microsoft Office
Free download
How to customize the ribbon in WPS Presentation
How to customize the ribbon in WPS Presentation
WPS Presentation's built-in tabs in ribbon enable users to explore different functions. We can also customize the ribbon to meet different work demands.
· Hide and show the toolbar
Click the Hide the toolbar or show the toolbar button in the upper right corner, and you can make the ribbon display or disappear. If Hide the toolbar is selected, you can click any tab to make it display temporarily.
· Create customized ribbons and groups
Click Menu, and then click Option to select Customize Ribbon. In this dialog box, you may see the commands accessible to be added on the left and the commands that have already been added on the right.
We can combine the left-handed drop-down list and the upper searching box to find the commands we want.
Suppose we want to put those commands that are frequently used in our study and work in one tab, what can we do?
Click New Tab, and you can find it and the group involved in the left ribbon area. We can also click New Group to create multiple groups under New Tab.
Then, select them one by one, and click Rename to change the tab's name to Common and group's names to For Study and For Work respectively.
Next, we can add the commands we want from the left side. Select the For Study group and select the new slide command, and click the Add button in the middle. At this time, the command will be added to the For Study group at the Common tab.
We can add more commands to this tab.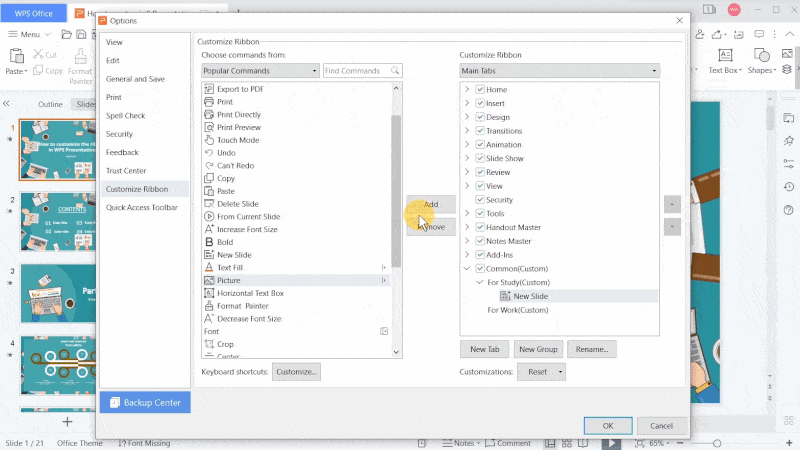 When adding the wrong command, you can select and delete it with the Remove button in the middle. Finally, click OK.
Now, you can find the newly added tab. Click it, and you can check all commands we added. Different groups are divided by a light gray vertical line.
The newly added tab is at the end of the ribbon. We want to put it first.
Back to the Customize Ribbon interface, select the Common tab, ,and improve its ranking by clicking the Up Arrow button.
If you want to improve it, click the Customizations drop-down button, and click reset all customizations to get the default ribbon back.
Come and try to customize your ribbon!
WPS Office is a free office software that is capable of creating and editing different file formats, including texts in Writer, Presentation, Spreadsheet, and PDF. No matter if you are a student or a business runner, WPS Office is a top choice. WPS Academy, along with WPS Office, offers free and useful tips to beginners who don't know where to start. In addition to the basic functions, WPS Academy can also take you to the more advanced world of office software.